labels rolls
thermal printing
Thermal printing includes two methods: direct thermal and thermal transfer. Both methods utilize a thermal print head that applies heat to the surface being marked. At our company, nearly all of our printer models are capable of performing both methods of printing, providing our customers with the flexibility to choose the method that best suits their needs.
Direct thermal printing, is a method of printing where the image is created directly on the printed material. Direct thermal media is coated with a heat-sensitive coating that blackens under the thermal print head. However, it is more sensitive to light, heat, and abrasion, which can cause fading, so exposure to such environments should be avoided. Despite this limitation, direct thermal printing still provides ample lifespan for many common label printing applications, such as shipping labels, scale labels, price labels, tickets, visitor passes, patient labels, and wristbands.
Thermal transfer printing, is a method of printing where a thermal printhead applies heat to a ribbon, melting ink onto the material to form images. The ink is then absorbed, making the images a part of the media. This technique produces durable, long-lasting, and high-quality images on a wide variety of printing materials, including papers, white films, and clear films. Additionally, thermal transfer printing is less susceptible to the external environment, making it a great choice for applications where the label will be exposed to harsh conditions.
preprinted template labels rolls
Labels for thermal printing don't necessarily have to be blank white. They can be preprinted and decorated with colorful graphics, logos, patterns, slogans, and fixed text such as contact information, as long as blank spaces are left for overprinting by the label printer. The label printer can then overprint variable information such as item names, descriptions, dates, barcodes, batch numbers, serial numbers, addresses, etc. on the blank spaces of the labels.

A common use of preprinted labels is to have just one standard template label and create many different versions by overprinting the labels with variable information. This saves time, money, and removes the need to order and keep so many different versions of label stocks. With this approach, you can print on demand just as many labels as you need for any version.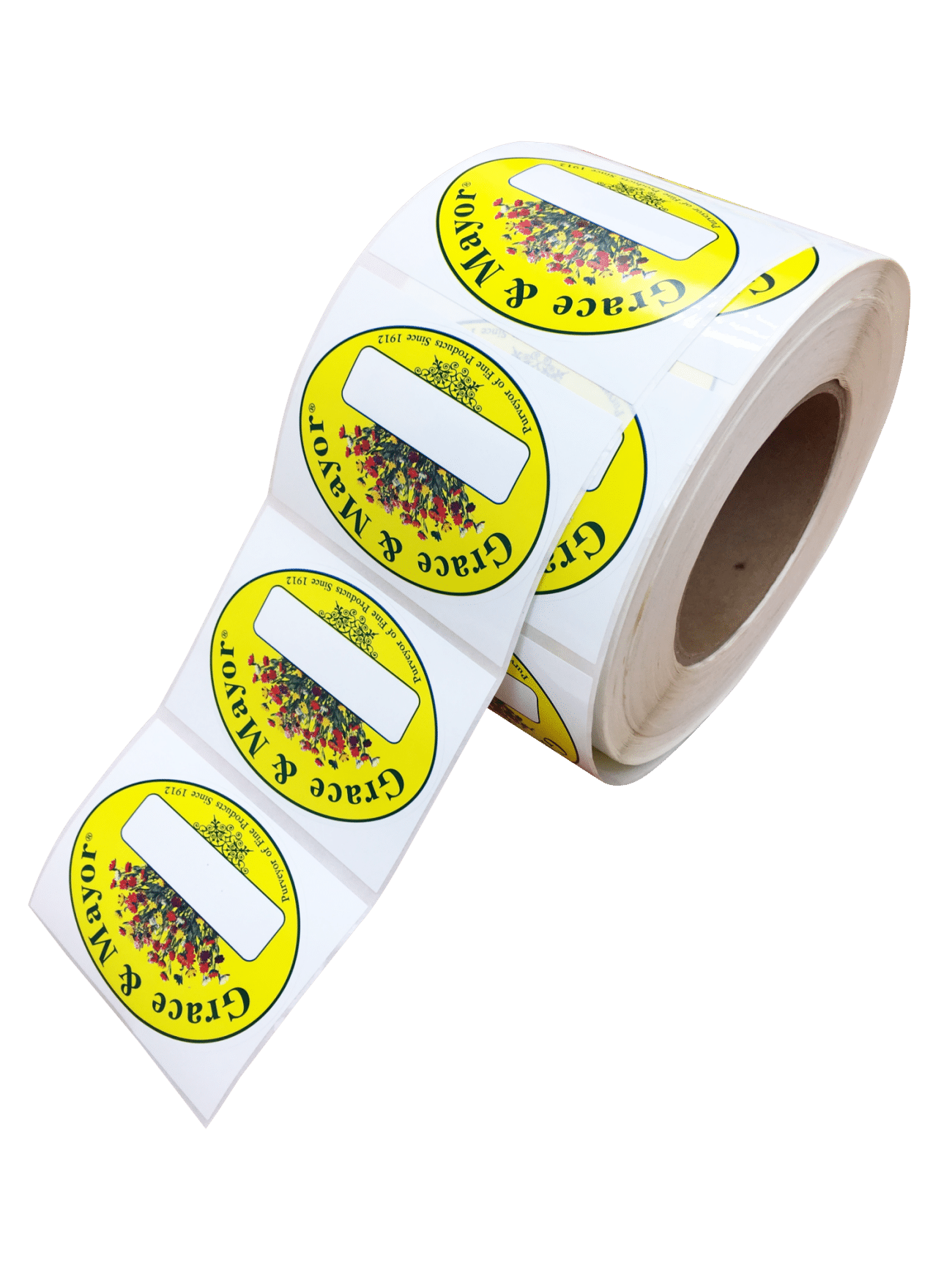 All company and/or product names are the trademark and/or registered trademark of their respective owners